Inflation Readings This Week
May 8, 2023
The stock market has been range-bound for the better part of two years. Here's a picture below of the index going back three years. The S&P 500 Index today is trading at a level achieved about two years ago on its way to its all-time high. But, since reaching that high, the market retraced some and then traded in a range.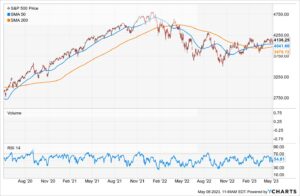 Why has the market been range bound?
Primarily it is because the market is digesting the impact of the Fed's interest rate campaign to fight inflation. As this campaign has played out, corporate earnings growth has moderated, and forward expectations have declined. Moreover, it can be argued that stock valuations remain elevated, which makes it hard to make additional gains. This is the fundamental and technical backdrop as the market tries to break out of its range.
What will it take for the market to break through its range?
It seems fair to say three things need to happen for the market to break out of its range and move to all time highs: 1) Inflation must recede toward something close to the Fed's target, 2) The Fed must stop raising rates, and 3) The economy must avoid a recession (the so-called soft landing). If these three things happen, then the market will rip to new highs. Our view is that the inflation battle is nearly won. This week's reading will go a long way to confirming this view.
Thus, we think it is very likely the Fed has finished raising rates. This means points one and two from our list above will be much clearer after this week's inflation releases. The only point remaining will be number three: whether we have a hard-landing economic recession or a soft-landing earnings trough. The bottom line is that it is still too soon to tell which path the economy will take.
We at WealthPlan are open to either scenario playing out at this stage. But we take solace in the fact that corporate earnings have come through relatively well for the first quarter of 2023 and corporate guidance for forward earnings has been decent.
It's going to take some patience to figure out point number three. We could see bouts of heightened market volatility as the macro picture unfolds and it could take the better part of 2023 to figure out. We may have more range-bound price action in the stock market for the remainder of 2023 as the market digests the unfolding macro-economic reality.
=====================================================================================
Advisory services offered through WealthPlan Group, a DBA for WealthPlan Investment Management, a subsidiary Registered Investment Advisor of WealthPlan Group, LLC.  WealthPlan Group, LLC is not a registered investment advisor, but is the holding company for WealthPlan Partners LLC and WealthPlan Investment Management, LLC.
The opinions voiced in this material are for general information only and are not intended to provide specific advice or recommendations for any individual. To determine which Investment(s) may be appropriate for you, consult your financial advisor prior to investing. Information is based on sources believed to be reliable, however, their accuracy or completeness cannot be guaranteed.
No investment strategy can assure success or completely protect against loss, given the volatility of all securities markets. Statements of forecast and trends are for informational purposes and are not guaranteed to occur in the future. All performance referenced is historical and is no guarantee of future results. Securities investing involves risk, including loss of principal. An investor cannot invest directly in an index.
The information in this communication applies solely to the intended audience and in no way amends, revokes, or otherwise alters the existing agreements and relationships between WPIM and its clients.  This communication is not a binding offer, expressed or implied.  WPIM undertakes no obligation to update or revise the information herein or in any referenced third-party resource due to new information, future events or circumstances, or otherwise.
WealthPlan Investment Management ("WPIM") uses data compiled and/or prepared by third parties ("Third Party Data") in the delivery of Licensed Research and Data. Third Party Data is not owned by WPIM and user may be required to obtain permission directly from third parties for further use of Third-Party Data and may be required to pay a fee depending on the use contemplated by the user.