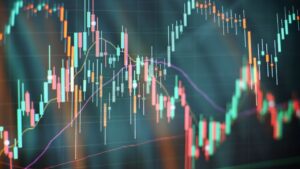 July 25, 2023
As we noted last week, we are in the second quarter earnings reporting season. So far, according to FactSet, 18% of S&P 500 Index companies have reported. While the majority are reporting positive revenue and earnings surprises. But before becoming too ebullient, please keep in mind these surprises are coming in after expectations have been reduced.
Here is a picture of expected earnings for the S&P 500 Index in dark blue against the Index in light blue (also from Factset). I think almost anyone would say if future earnings play out as depicted in the dark blue line as analysts currently expect, it will be an absolutely terrific outcome and, indeed, a soft landing. This is why the market is up.
Still, with rates up, we think it is prudent to lower expectations and not declare a soft landing until we clear 2023. Until that time, exercising some prudence, not overpaying for hype stocks, and maintaining a well-balanced portfolio with a variety of quality dividend growth stocks makes abundant sense.
=====================================================================================
Advisory services offered through WealthPlan Group, a DBA for WealthPlan Investment Management, a subsidiary Registered Investment Advisor of WealthPlan Group, LLC.  WealthPlan Group, LLC is not a registered investment advisor, but is the holding company for WealthPlan Partners LLC and WealthPlan Investment Management, LLC.
The opinions voiced in this material are for general information only and are not intended to provide specific advice or recommendations for any individual. To determine which Investment(s) may be appropriate for you, consult your financial advisor prior to investing. Information is based on sources believed to be reliable, however, their accuracy or completeness cannot be guaranteed.
No investment strategy can assure success or completely protect against loss, given the volatility of all securities markets. Statements of forecast and trends are for informational purposes and are not guaranteed to occur in the future. All performance referenced is historical and is no guarantee of future results. Securities investing involves risk, including loss of principal. An investor cannot invest directly in an index.
The information in this communication applies solely to the intended audience and in no way amends, revokes, or otherwise alters the existing agreements and relationships between WPIM and its clients.  This communication is not a binding offer, expressed or implied.  WPIM undertakes no obligation to update or revise the information herein or in any referenced third-party resource due to new information, future events or circumstances, or otherwise.
WealthPlan Investment Management ("WPIM") uses data compiled and/or prepared by third parties ("Third Party Data") in the delivery of Licensed Research and Data. Third Party Data is not owned by WPIM and user may be required to obtain permission directly from third parties for further use of Third-Party Data and may be required to pay a fee depending on the use contemplated by the user.